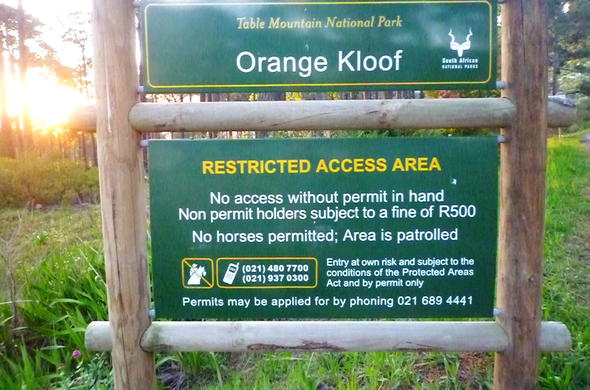 Spend a wonderful night in modern and comfortable tented accommodation and rejuvenate your senses during this 2 day Orange Kloof hiking trail on Table Mountain.
Ancient trails meander through the exotic fynbos and Afromontane forests of the Disa River Valley near Cape Town. Along these trails you will discover the exotic Orange Kloof. Silvermine Dam forms the gateway between the northern and southern areas of the Table Mountain National Park and the starting point of the magnificent 2 day Orange Kloof Trail.
Uncover the endless secrets of Orange Kloof while enjoying the best of Cape Fauna and Flora with fantastic views over the Cape Peninsula, mountains and indigenous forest. Escape to complete relaxation and natural splendor at your exclusive overnight Orange Kloof tented camp retreat only 15 minutes from the heart of Cape Town's vibrant city centre.
Day 1: Cape Town, South Africa, Silvermine Dam to Orange Kloof Forest - 15,5km
Meet your guide at the Silvermine Dam. The trail will descend Blackburn ravine, winding north through unspoilt indigenous Cape fynbos with fascinating views of the Cape Peninsula. The trail traverses Constantiaberg, following a fairly steep climb up Vlakkenberg to Constantia Nek. Nestled in the ancient Orange Kloof Afromontane forest is the exclusive Orange Kloof Tented Camp where you will overnight.
Day 2: Cape Town, South Africa, Orange Kloof to Lower Cableway Station - 9,5km
Start your morning's hike by ascending the back table of Table Mountain via Disa Gorge. Follow the trail leading you towards the upper cableway station through the picturesque Valley of the Red Gods. Enjoy the breathtaking descend while being ferried down in the world renowned Table Mountain Cable Car, where the trail will culminate at the lower cable station.
Accommodation:
In the heart of Table Mountain National Park's ancient Afromontane forest is the luxurious Orange Kloof Tented Camp. Tented accommodation is an understatement. These exclusive permanent "tents" are weather proofed and built on raised wooden walkways connected to the boma and outdoor bathrooms complete with hot showers and flush toilets.
Meeting Points:
Meet your guide at the entrance gate parking area to the Silvermine Dam before departing on the Orange Kloof Trail in Cape Town, South Africa. The trail will end at the lower cableway station of Table Mountain's Aerial Cableway, Tafelberg Road, Cape Town.
Vehicles
You are able to make prior arrangements with the booking officer to park your vehicle at the Platteklip Wash House in Cape Town near the lower cableway station. Unfortunately no vehicles are allowed to be left at the starting point. From there you can either be transferred by your guide or make alternative arrangements to be dropped off at Silvermine Dam.
What you need
The Orange Kloof Trail is a portaged, guided and self-catering hiking trail on Table Mountain. All your food and overnight gear will be ferried from Silvermine Dam to Orange Kloof Tented Camp and on to the lower cableway station the following day. You will need:
Binoculars
Sleeping bag and bedding
Good walking boots/shoes
Camera and spare batteries
Day pack with lunch, snacks and at least two liters of water
Dinner and breakfast for overnight at Orange Kloof Tented Camp
Waterproof gear and clothing suitable for alternating weather conditions
Included:
Permit into Orange Kloof and Disa Gorge
Luggage and overnight gear ported by vehicle
Cable Car descent in the Table Mountain Aerial Cable Car (weather permitting)
One nights' accommodation in the Orange Kloof Tented Camp (on a self-catering basis)
2 day Orange Kloof Trail guided hike from Silvermine Dam to lower cableway station, Table Mountain National Park
Not Included:
Meals
Bedding (Sleeping bag, pillow)
Transfers
Beverages
Travel insurance
Day pack with lunch, snacks and water