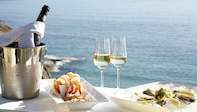 Luxury villa accommodation options located in Cape Town, South Africa. Exclusive-use luxury holiday home rentals featuring state-of-the-art amenities and facilities.
Luxury Cape Town Villas are all about exclusivity and fantastic facilities. Contact our Cape Town villa specialists today to match you with the perfect Cape Town villa to suit your needs and wants.
This luxury Cape Town villa in Camps Bay is a mansion in the truest sense of the word. Situated in stunning Camps Bay and close to Cape Town's favourite beaches...
more
Wescamp Villa is the ideal holiday retreat with breathtaking views of Camps Bay Beach where guests can enjoy refreshing beach walks in Cape Town....
more