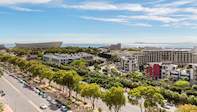 Green Point hotels have the envious position of being a mere 3km from Cape Town City Centre and still within walking distance of the V&A Waterfront.
One of the main attractions in Green Point is the Cape Town Stadium which hosts local and international concerts, sporting and entertainment events. Many shops and restaurants line Green Point Main Road including the popular Giovanni's Deli.
See Green Point accommodation in Cape Town below.