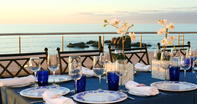 Azure Restaurant at the Twelve Apostles Hotel hosts Serendipity Sunday Lunch, featuring a buffet feast of delicious hot and cold dishes plus a sinful selection of deserts, accompanied by the dulcet tones of live music and spectacular sea views.
Go Ahead, You Deserve It!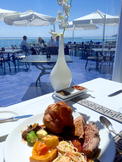 Just a sampling of the delicious buffet options.
Having long been a buffet aficianado, I was thrilled when I heard about Serendipity Sundays at the Twelve Apostles Hotel in Cape Town.
This 5-star luxury hotel boasts some of the most stunning seaside views in all of Cape Town, which can be admired from the Azure Restaurant's outside deck and indoor dining area. Soak up the sunshine on the terrace or settle down next to the cosy fireplace, this is a venue for all seasons
I was not dissapointed when I entered the dining room at 1pm (I didn't want to waste a minute of this dining extravaganza), as I was met with the most spectacular spread of dishes. Not wanting to seem over-eager I was seated and had my drinks order taken from a friendly waiter. This gave me the chance to enjoy the relaxing atmosphere and the beautiful vocals of resident musician, Jenie Oliver.
The time to hesitate was through and it was time to peruse the spectacular buffet! What a spread awaited me! The selection of cold dishes, salads and antipasto was as impressive as the hot dishes. To start I settled on a selection of prawn and calamari citrus salad, mini bacon quiches, smoked salmon topped with caviar, snoek pate and a shooter of Vichyssoise.
Round 2 comprised of Roast beef with gravy, roast potatoes and veg, a yorkshire pudding, Portuguese steak stew, creamy seafood chowder and so much more.
This brings me to the most important thing to note when indulging in a buffet:
The Buffet Rules of Engagement
When deciding on the best attire always adhere the advice of Joey Tribbiani from the TV show Friends - Go for an elastic waistband. Of course with this being a 5-star establishment one still needs to look chic, so getting the balance of elegance and comfort right is key.

Do a victory lap or in this case a pre-planning surveilance lap - you want to first see all the delicious options available before you commit to anything.

While foodies will appreciate that certain foods compliment each other, in buffet conditions, all rules go out the window. Mix and match and don't worry about getting a balanced plate.

I cannot stress this next point enough - NEVER fill up on common carbs!
This is a cardinal sin of the buffet. Rolls, bread, pasta salad and common fillers will waste the limited real estate available in your tummy. Ensure you have room for the big ticket items like smoked salmon, prawns and beef fillet. Exceptions can only be made for mini-croissants, crispy roast potatoes and perfectly puffy Yorkshire puddings.

Don't be tempted to overfill your plate - if it resembles a Jenga Tower or the Leaning Tower of Pisa you have may have been overly ambitious. Remember you can always go back for more as the buffet gets frequently replenished.

Is it Free-from ? I will quote my favourite drag queen, Bianca Del Rio when I reply "Not today, Satan!" - While the Twelve Apostles will be happy to accommodate any special dietary requests, unless you are at risk of going into anaphylactic shock or a diabetic coma, why not give yourself permission to indulge for once - sample all the delicacies on offer and relish them! Once while on a Mediterranean cruise which served the most spectacular buffet breakfasts, I observed a man eating nothing but a humble bowl of Kellogg's All Bran Flakes. I felt very strongly that he should have been escourted off the ship at the next port and not allowed back on board until he had come to his senses!

Wait there's cake ! While the entrée and main courses may entice you to overindulge, don't forget there is still a full desert selection of delectable sweet treats in store. Pace yourself.

Treat The Ones You Love

My Dad's obligatory cheese course.
While I believe you never need an excuse to enjoy a high tea or a hotel buffet brunch, this experience is particularly perfect for special occasions - birthdays, anniversaries, Mother's Day, Father's Day or any special celebration.
On my most recent Serendipity Sunday lunch (I have been several times), it was my Dad's 70th birthday and he was serenaded with a Happy Birthday song along with a special mini birthday cake presented in a cloud of atmospheric liquid nitrogen.
There is also an impressive dessert station, featuring all the beautiful little colourful cakes, pastries and mousse desserts one would expect at a fancy High Tea (coffee and tea need to be ordered from your waiter).
For those like my Dad, who savour a good cheese platter at the end of a meal, the selection of soft and hard cheeses, crackers and fruits do not dissapoint.
Twelve Apostles Hotel guests as well as local Capetonians should treat themselves and those they love to a Serendipity Sunday lunch - an afternoon to remember.
Read more about Twelve Apostles Hotel & Spa in Cape Town.
By Christine Burtenshaw
The luxurious Twelve Apostles Hotel & Spa is situated on the Atlantic Ocean's edge, flanked by majestic Table Mountain and the Twelve Apostles....
more