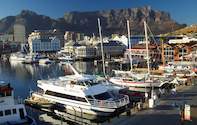 © Roger de la Harpe
The list of things to do in and around Cape Town when visiting Wescamp Villa is endless, from adrenaline pumping adventure activities to golf and the famous shopping at the famous V&A Waterfront.
V&A Waterfront
The V&A Waterfront is situated between Robben Island and Table Mountain in the heart of Cape Town's working harbour and has become South Africa's most visited destination.
Set against a backdrop of magnificent sea and mountain views, it offers exciting shopping and entertainment venues. Shops are open till 9 pm, 7 days a week. There are over 240 speciality stores, 11 cinemas and a variety of restaurants and cafés. Many of the restaurants and cafés border the marina offering delightful meals at the harbour's edge.
Adventure Activities
Besides all the day trips, you can go shopping and sightseeing, there is a number of adventure activities guaranteed to give you an adrenaline rush and fill your days with fun. One of the appeals of Cape Town is the variety of activities to enjoy. Adrenaline sports like abseiling, bungy jumping, skydiving and white water rafting can be arranged. Shark diving, scuba diving, sailing and almost all other water sports are easy to book and gentler nature-activities are a quick drive away. You are never bored in Cape Town!
Golf in Cape Town
Golf is extremely popular in Cape Town and is played all year round. From November to March - when it's cold in Europe - golf players from overseas enjoy playing in fine weather on one of the many golf courses of Cape Town.
Somerset West area is a golfer's paradise with no less than three 18-hole golf courses as well as a 9-hole course and a golf driving range. The areas around the Helderberg also offer world-class golf courses eg. Stellenbosch golf course, Devonvale, Royal Cape, Arabella and many more.
Robben Island
Situated 10km (6.2 miles) offshore and notorious for its former role as a maximum-security political prison, Robben Island has been developed as a nature reserve, museum and poignant memorial to South Africa's long liberation struggle.
Robben Island ferry trips depart at the Waterfront, taking only 40 minutes to reach the island. Departing with this ferry you leave the bay watching a video on the struggle in old South Africa. On Robben Island, you are shown the prison itself, all the various cell blocks including the one where Nelson Mandela was imprisoned.
Table Mountain
Experience the Cape's breathtaking scenery from a unique point of view -Table Mountain. Take the cable car to the top or take a beautiful hike up the mountain. Cape Town's famous 1000m (3280.8 feet) landmark presents a range of dramatic vertical cliff faces where you can try the world's highest abseil at 112m (367.4 feet) high!
Cape Winelands
Just 45 minutes from Cape Town, the Winelands is the ideal base from which to explore Cape Town and its surroundings. Experience the hospitality and beauty of Stellenbosch, Paarl, Wellington and Franschhoek, where many wine farms offer a variety of excellent world-renowned wines.
You will be spoilt for choice between small, boutique wineries and the larger, more commercial wine estates. Taste the fruit of the winemaker's labour on a tour of his cellar where the precious harvest is lovingly transformed into every wine lover's delight.