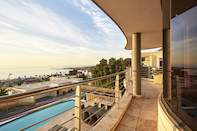 Wescamp Villa is located in the trendy and scenic suburb of Camps Bay in Cape Town, with stunning sea views.
Cape Town
The city of Cape Town is dominated by its world-famous landmark, Table Mountain. Cape Town is however not just about the mountain, it also boasts immense natural beauty consisting of lush valleys, white sandy beaches and a unique floral kingdom. It's not difficult to see why Cape Town is regarded as one of the most beautiful regions in the world.
Explore the breathtaking coastal areas of Camps Bay, Clifton, Llandudno, Bantry Bay, Hout Bay and Blouberg and soak in the tranquillilty of the Cape Winelands, only 45 minutes from the city.
Camps Bay
The long stretch of fine sand and palm-dotted lawn looks just like the South of France. There are loads of cool bars and café restaurants spilling onto the pavements giving Camp's Bay a great vibe. The beach is a little exposed during a persistent south-easter but experienced surfers and windsurfers love the hard-braking waves near the rocks at the northern end of the beach.
There is no resident lifeguard and the strong backwash means care must be taken when swimming - if you can bear the water temperature! Scuba-diving amongst inquisitive Seals in Justin Caves on the road to Llandudno is superb and can be arranged from various dive schools.
Clifton Beach
The glamour of beautiful bodies and the romance of cruising yachts moored in the shallows attracts a lot of visitors here. Granite boulders divide the four white sandy beaches of Clifton sheltering them from the south easter and offering safe bathing with a somewhat strong undertow.
Do not be surprised to see rainbow-striped paragliders floating down towards you. They take off from the top of Lions Head and catch a few thermal updrafts before coming in to land on the lawns of the popular beach bar, La Med.