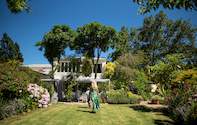 For the perfect Cape Town holiday, make a reservation at Last Word Constantia in Cape Town. It's near Cape Town's many attractions and exciting activities.
Enjoy the exclusivity of only 9 bedrooms
Go on one of the many tours around Cape Town
Be adventurous and visit some of the other towns
Last Word Constantia is a five-star boutique hotel conveniently positioned in close proximity to many of the celebrated Cape Town restaurants. It is a minute or two away from the chic Constantia Mall with its wide variety of fashionable shops and restaurants.
The 24-hour security and in-house chauffeur services will heighten your sense of protection and freedom to venture and enjoy any location in Cape Town. Last Word Constantia isn't located in the busy city centre, instead, you will find yourself in tranquil areas with spectacular mountain and ocean views.
The chauffeur service will take you to any location you desire. When you make reservations at one of the Cape's finest restaurants, you're guaranteed a relaxed evening. You don't have to worry about driving after having some wine as the chauffeur will get you back to the hotel in Cape Town.
The highlight of staying at Last Word Constantia is you won't be sent on an overcrowded tour bus to see tourist attractions, but your host, who is an accredited Cape Peninsula Tour Guide, will personally show you the many features and attractions of Cape Town.