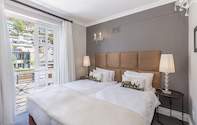 Romney Park Luxury Apartments in Cape Town is a top choice for those wanting to live like the local Capetonians but without skimping on luxury and comfort.
Many of our return clients visiting Cape Town opt for Romney Park Luxury Apartments, not just because of its central location, but because they get to feel like a real local while staying there.
We know that sometimes even the best hotels can sometimes feel a bit stiff and uptight, and these apartments are a breath of fresh air with their more relaxed and inviting ambiance. Each unit offers complete privacy and has been designed to feel more like a home than just a room. Both the one and two-bedroom options come fully furnished with inviting interiors and comfortable, personal touches, like private lounge areas and built-in kitchens.
These Cape Town self-catering apartments in Green Point are all sea-facing, with everything-you-could-need amenities like air-conditioning, underfloor heating. Complimentary Wi-Fi is also available throughout the property and there are also off-road parking bays so you'll never have to worry about trying to find a secure place to park.