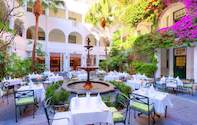 The Winchester Hotel is ideally situated close to a wide range of fun activities to enjoy, whether on a romantic or family holiday in Cape Town. The beautiful courtyard restaurant at Winchester Hotel is a hot spot for locals and international guests.
The Winchester Hotel is conveniently located close to a wide selection of activities to enjoy during your Cape Town holiday. Use the hotel's complimentary shuttle service to the V&A Waterfront where you can shop for designer goods or African crafts or stop for a bite to eat at one of the many fine restaurants.
The Winchester Hotel is located opposite the Sea Point Promenade. Sit at Harvey's bar and watch the world go by, while enjoying stunning sea views. Stroll along the Promenade or rent a bicycle to explore the charming Sea Point beachfront. Sea Point Main Road is a minute walk away, offering a huge variety of restaurants, boutiques, and shopping malls.
Explore the beautiful city of Cape Town and enjoy the spectacular views from on top of Table Mountain. Alternatively, catch the ferry to Robben Island and learn more about South Africa's political history. The Winchester Hotel is conveniently located on the red Cape Town City Sightseeing hop-on and hop-off bus route. Return to The Winchester Hotel for a refreshing drink and mouthwatering meal at Harvey's.
After spending the day exploring Cape Town's sights, relax with a soothing spa treatment at the Ginkgo Health and Wellness Spa. Indulge in a range of soothing treatments including holistic and eastern treatments at this world-class spa at The Winchester Hotel.
Children can enjoy swimming in the outdoor heated swimming pool during a family vacation in Cape Town. On Sundays, you can enjoy a delicious brunch and live Jazz or enjoy a romantic dinner in the Courtyard.