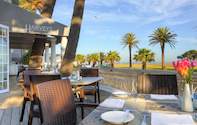 The Winchester Hotel is ideally located opposite the beachfront in the vibrant suburb of Sea Point, Cape Town.
The Winchester Hotel is located close to the V&A Waterfront in the suburb of Sea Point, Cape Town. This Cape Town hotel is situated only 3.5km (2.17 miles) from the Mother City's centre and 2km (1.24 miles) from the well known V&A Waterfront (complimentary shuttle service to the V&A Waterfront available).
The beautiful white beaches of Clifton is situated within a scenic 5-minute drive from The Winchester. Guests can easily access this hotel in Cape Town from Cape Town International Airport by car. The Winchester Hotel's location makes it an ideal base to explore Cape Town and its surrounding attractions.
Directions from Cape Town International Airport
From Cape Town International Airport, follow the exit signs to the N2 towards the city of Cape Town. Continue driving along the N2 until you see the city centre on your left hand side. As soon as you see the city, move across into one of the 2 right hand lanes which will take you onto a flyover / overhead motorway.
Drive past the harbour and keep in the right hand lane until you reach the first set of traffic lights at the corner of the Cape Town International Convention Centre and the V&A Waterfront turnoff. Continue accross these traffic lights and turn right at the next set of traffic lights onto the M6 towards Sea Point.
Drive along the M6 and stay in the left lane until you reach a traffic circle. Take the second turn off the circle and continue along the M6. Cross 3 sets of traffic lights. You will then see the Winchester Hotel situated on your left hand side. Large palm trees are situate directly in front of this Cape Town hotel as well as on the opposite side of the Sea Point beachfront and promenade.
GPS co-ordinates
S 33œ 54' 38.1' E 18œ 23' 26.5'