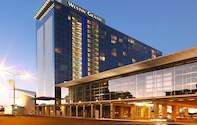 The Westin Cape Town is interlinked to the Cape Town International Convention Centre and is situated on the Foreshore, making it an ideal Cape Town business hotel.
Situated in the heart of the mother city, Cape Town
hotel comprises 483 elegant, luxurious and comfortable rooms
The famous Victoria & Alfred Waterfront is located a kilometre away
Relax on the hotel's top floor whilst being pampered at the Heavenly Spa
The 5-star Westin Cape Town, with its excellent location on Cape Town's foreshore, invites its guests to experience new standards of elegance and comfort.
This Cape Town business hotel offers the highest attention to detail, top class service and luxurious hotel accommodation. Cape Town itself, with its cosmopolitan flair, attracts many visitors to its world-renowned V&A Waterfront.
Specially designed beds, as well as a comfortable chaise lounge, invites clients to a blissful rest. Most of the 483 rooms and suites, with their fully glazed facade, offer floor to ceiling views over Cape Town, the V&A Waterfront, the mountains and the Harbour.