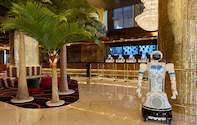 The Hotel Sky Cape Town is the most exciting hotel in South Africa! This Cape Town hotel boasts the Infinity Restaurant on the 26th floor, AI-powered robots, and even a 35m thrill ride on the roof.
Why We Love it and You Will Too
Cutting-edge technology includes self-service check-in and app-based door keys
Helpful robots assist with questions, luggage and even rooms service
Enjoy breakfast with a magical view over Cape Town from the Infinity Restaurant
The Sky Bar boasts glorious sunsets and magnificent views of Table Mountain
Reach new heights on the Sky-Hi Ride on the 28th floor - an exhilarating ride with a view!
Your Hotel Sky Cape Town Experience
At Hotel Sky Cape Town, you can expect a playful and exciting hotel experience in the heart of the Cape Town CBD, close to the CTICC and V&A Waterfront.
All of the amenities you've come to expect from a luxury Cape Town hotel are available here plus AI-powered robots, self-service check-in, an exciting 30m thrill ride on the rooftop, and an Infinity Restaurant on the 26th floor with a panoramic view of beautiful Table Mountain!
This modern and innovative Cape Town hotel features colourful funky decor and extravagant furnishings. Be mesmerized by Skyla and Ariel, the AI robot staff who work alongside the humans and patrol the gold glitzy foyer. Each robot has its own distinct personality and they're there to help you out with anything from general questions to luggage and even room service.
Hotel Sky Cape Town has all of these awesome extras without sacrificing classic and comfortable hospitality - all at an affordable price.
A feast for the eyes and the taste buds alike, Hotel Sky Cape Town offers a magnificent view of Table Mountain from its 26th-floor restaurant. Begin your day watching the sunrise from the Infinity Restaurant and end it by watching the sunset as you dine. Experience the concept of 'skystronomy' - gastronomy in the sky!
Hotel Facilities
2 Heated swimming pools
Fitness centre
Smoking lounge
Infinity Restaurant
Sky Bar
AI Robots
Self-service check-in
Sky-Hi Ride
Accessible facilities
Parking