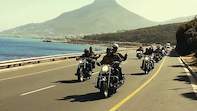 Riding a throbbing Harley Davidson around the Cape gives you the chance to live the dream and play the part for a few hours or a few days. Carrie Hampton donned some leathers and a helmet and leaped on the back of 'Fat Boy' to become a bikers moll for a day. The effects of this gleaming machine between her legs is revealed in this article, read on……
Reclining on the back of 'Fat Boy' heading out of South Africa's winelands towards the Cape coast, one of my unfulfilled desires was coming true. I was sitting astride a throbbing 1340cc's of gleaming Harley Davidson and felt every bit the biker's moll.
'Super Glide' and 'Low Rider' went ahead cutting a swathe in the Saturday morning traffic and 'Electroglide' cruised weightily behind. Cars pulled aside at the thunderous rumblings of four Harleys and drivers stared with open desire (I would like to think at me but I might have been mistaken). As we revved into a volcanic frenzy at the traffic lights no-one even contemplated trying to race us past the line.
Ours was a perfect Harleyday warmed by early summer sunshine and a sensual feeling of freedom. The simple pleasure of travelling unconfined made us appreciate the potency of Frangipani blossom and even fishy smells in salty sea air. Cruising in convoy we travelled the smooth winding cliff-top road around False Bay with Cape Hangclip in front and the infamous Cape Point just visible in the glinting distance. Photo opportunities were spectacular and even whales and dolphins made an appearance in the glossy green waters.
Drivers Smiled and Let us Through With Unusual Courtesy
I thought a gaggle of leather clad, silver studded bikers might elicit fear and loathing from the strolling crowd at the Hermanus Whale Festival, but in contrast we received unconcealed adulation. People whistled and waved, drivers hooted and children ran alongside laughing and calling, while pedestrians simply stopped and stared. Most exceptional of all was the unusual courtesy from car drivers who smiled in good humour and let us through. I began to enjoy all the attention and waved from my steely mount like the Queen from her coach and horses.
My companion in the hot seat - a motor cross rider in his youth - was somewhat sceptical about the power and mystic attributed to Harley Davidson riders, but was converted before morning coffee. 'Girls just seem to love a man on a Harley,' he acquiesced and like a magnet, pretty women seemed drawn to the gleaming bikes. They then asked the kind of questions designed to send testosterone levels soaring; 'Can I touch it?' 'May I sit on it?' 'Will you take me for a ride?' and 'What can I hold on to?'
You Cannot Head off on a Harley Without Looking the Part
The Cape Harleyday motorbike tours start in Stellenbosch, where you are kitted out with such quintessential gear as a World War II-style black beanie helmet, genuine Hard Rock Café leather jacket and complimentary Stars and Stripes Thomas Jefferson Bourbon bandanna. After all you cannot head off on a Harley without looking the part.
Take the bike for as little as one hour or as long as 10 days along the coast and through the mountains staying in well chosen guest houses and cruising the sights at leisure accompanied by a tour host and back up vehicle. Obviously a motorbike licence is a pre-requisite for the front seat, as is being over 25 years old, but passengers without these qualities are provided with an experienced driver, while they sit back and live their dream as I did.
You cannot be in a hurry when riding a Harley - it is the antithesis to the 'cool dude' philosophy - so we slid into a cruising speed of little more than 100km per hour. Any faster than that and the 'Fat Boy' whose enormous engine is mounted straight onto the frame, started vibrating to a degree more than this girl could take.
Never more so than going down hill which was unavoidable when traversing the stunning Franschhoek Pass through the granite mountains of the Winelands. A stop in the valley for a stiff brandy proved necessary to regain composure before continuing.
Once tried, the Harley experience is not to be forgotten and it certainly fulfilled my aspiration to be a biker's bimbo even for one day.
By Carrie Hampton